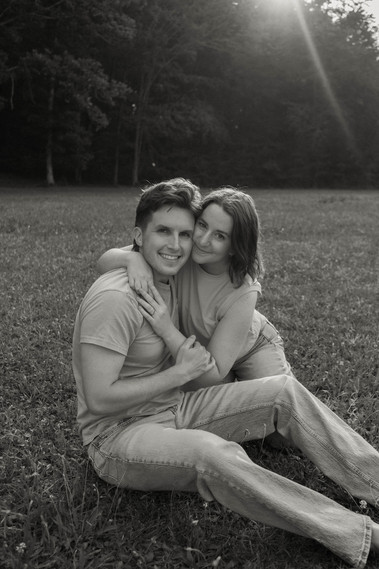 Hi there, we are Alex & Andrew Taylor!
We are so happy you are here. We're the faces behind Soul Honey Photos! We are based in the Chattanooga, TN / North GA area but welcome travel ALWAYS! We have a huge heart for meeting people, cultivating lasting relationships and telling their stories as honest and thoughtful as possible.

We love the Lord and are not shy in proclaiming His name in this business. This is not only a business to us, but a ministry that we strive to steward well. We have the honor of meeting so many amazing people through it and pray continuously for all our potential clients. We truly believe it is no coincidence if we cross paths and it is something we do not take lightly!
A little bit about us individually:
Alex- "I started this business from the ground up in 2018! I graduated with my Bachelor's in Media + Communication from ETSU in 2020 and shortly after I decided to take the leap and switch to full time photography. The Lord has blessed this business so much. All the glory to Him because without Him I am nothing and this business is nothing. When I'm not shooting or walking one of our three dogs, you can find me cuddled up reading a good book or re-watching my favorite rom coms! Andrew is my soul mate and high school sweetheart! We have been married since 2019 and it is the greatest thing in the world that we get to do this business together!"
Andrew- "I love getting to be a part of this business with Alex, my wife and best friend. When I'm not tagging along for a shoot or wedding, I work as an ICU nurse. I love Jesus, running, the Atlanta Braves, and ice cream. As Alex already said, we are so blessed to have this business and look forward to serving you as your photographers!"
What to expect:

For general sessions you can expect Alex to shoot them all! Andrew usually tags along and is the best wallet, keys and bag holder ever ;) For wedding days we work together! It will always be both of us tag teaming the day and pouring our hearts and souls into documenting your most precious of moments. We hope and pray that we demonstrate Christ's love while capturing yours.
We are absolutely an open book, so if you have any questions for us please do not hesitate to ask!! We cannot wait to make memories with and for you :)
About contacting us:
We strive to live a digitally minimal life as our business instagram is our only form of social media. The best way to reach us is through our contact form or our business email alex@soulhoneyphotos.com
Please do not inquire through our Instagram DM!
Fun fact- Alex runs our Instagram so if you ever interact with it, your talking to Alex ◡̈
"Kind words are like honey, sweet to the soul and healing to the bones"

Proverbs 16:24